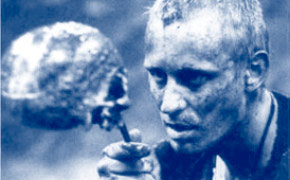 HamletWorks is a large and constantly growing collection of interest to casual students as well as serious scholars. It includes
The Enfolded Hamlet, which allows access to variant readings from F1 and Q2 in an innovative interface.
Textual and commentary notes created over four centuries
Digital facsimiles as well as diplomatic transcripts of important editions.
Commissioned essays about Hamlet
Alan Young's multimedia essay on Hamlet art and illustration
Other materials for the study of Hamlet illustrations through 1900
HamletWorks is edited by Bernice W. Kliman, Nicholas Clary, Hardin Assand, and Eric Rasmussen.
Our international collaborations include
Taiwan Shakespeare Database – Founded by Professor Bi-qi Beatrice Lei, the Taiwan Shakespeare Database is an open-access online archive of Taiwan's Shakespearean productions with both English and Chinese interfaces. It casts theatre works in historical and cultural context, presenting not only streaming video of performances with bilingual subtitles but also production background, interviews, publicity materials, designs, photos, news coverage, reviews, essays, and more. Data is annotated in English and Chinese: each production comes with a concise introduction and related materials are given a brief abstract too.
The Database constitutes a useful tool for researchers, teachers, and students alike. Users can browse all the productions or search for specific data. The Database is an ongoing project. Application tools for teaching and research are also being developed.
Shakespeare Digital Brasil – Videos for Brazilian educational online project – free access – sponsored by UFPR TV, UFPR, MIT GLOBAL SHAKESPEARES. Project director: Professor Liana Leão, UFPR. She is also a regional editor of Brazil for the MIT Global Shakespeares Video and Performance Archive.